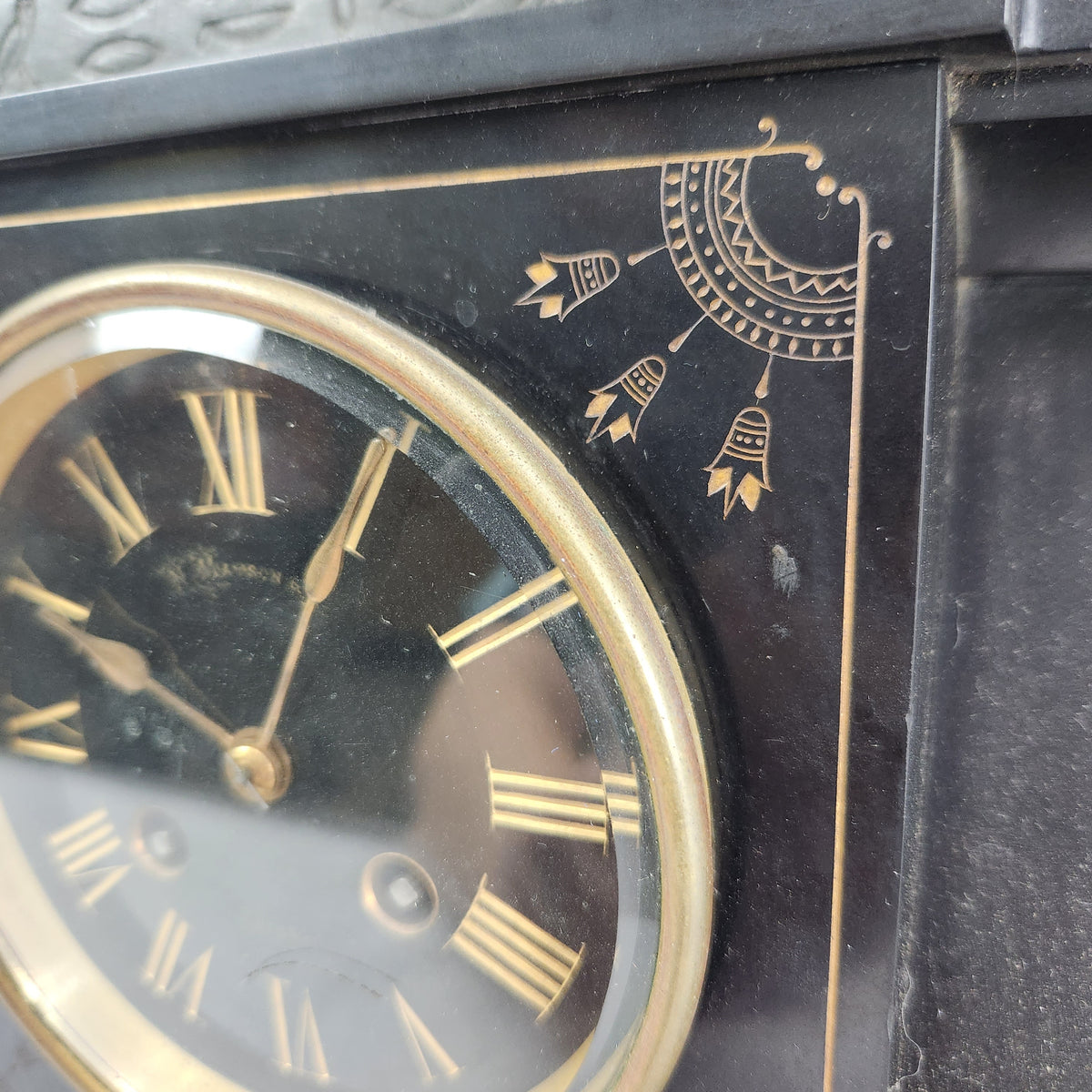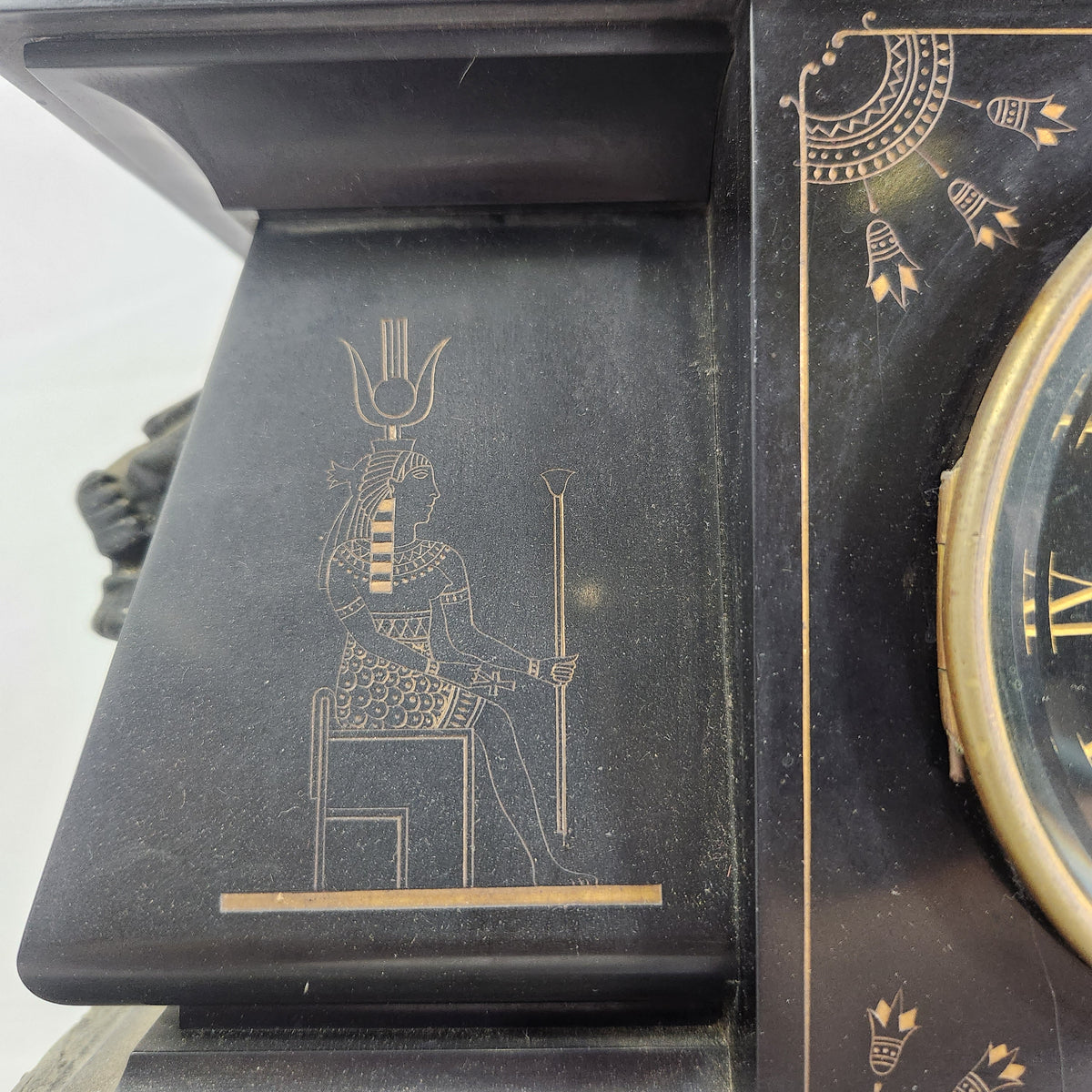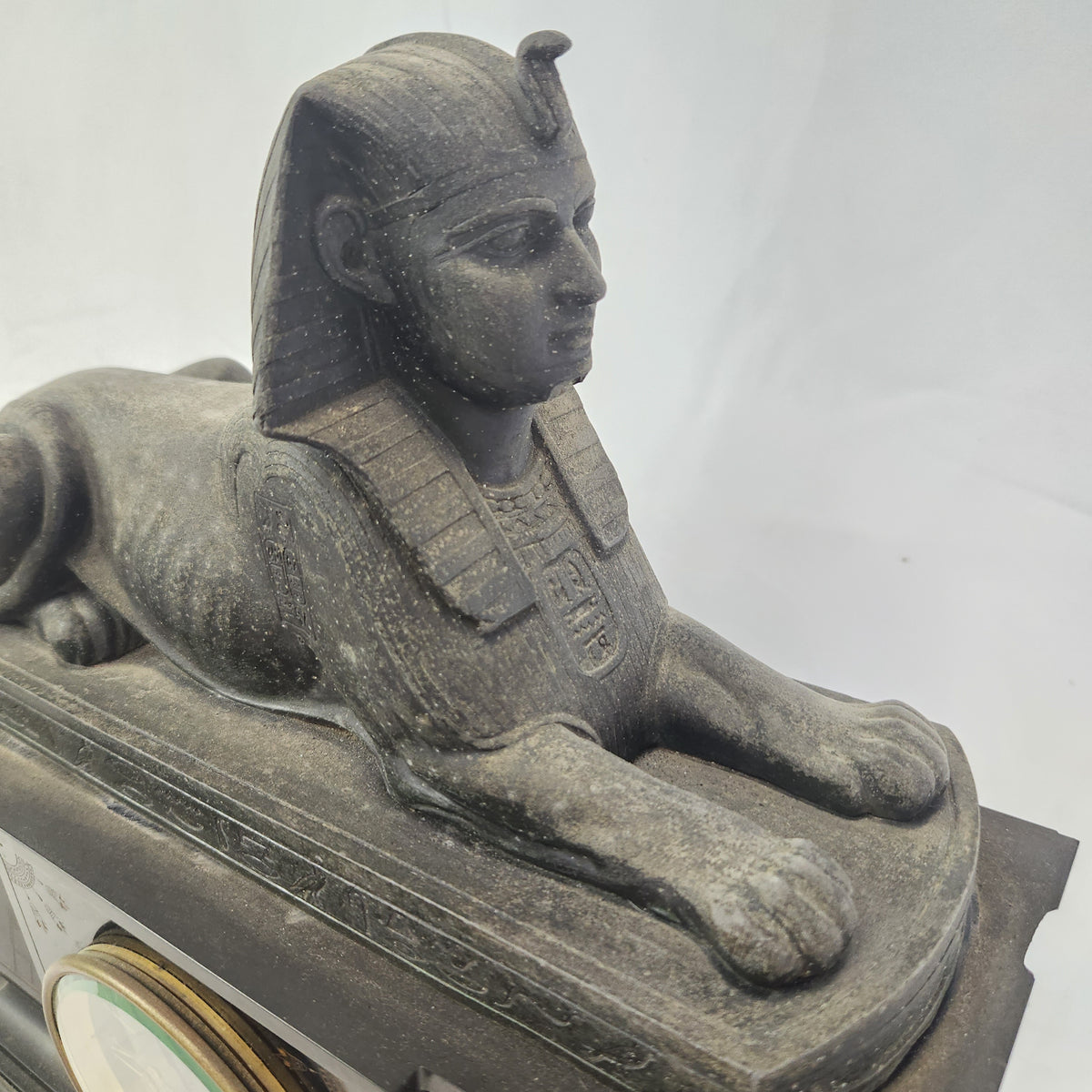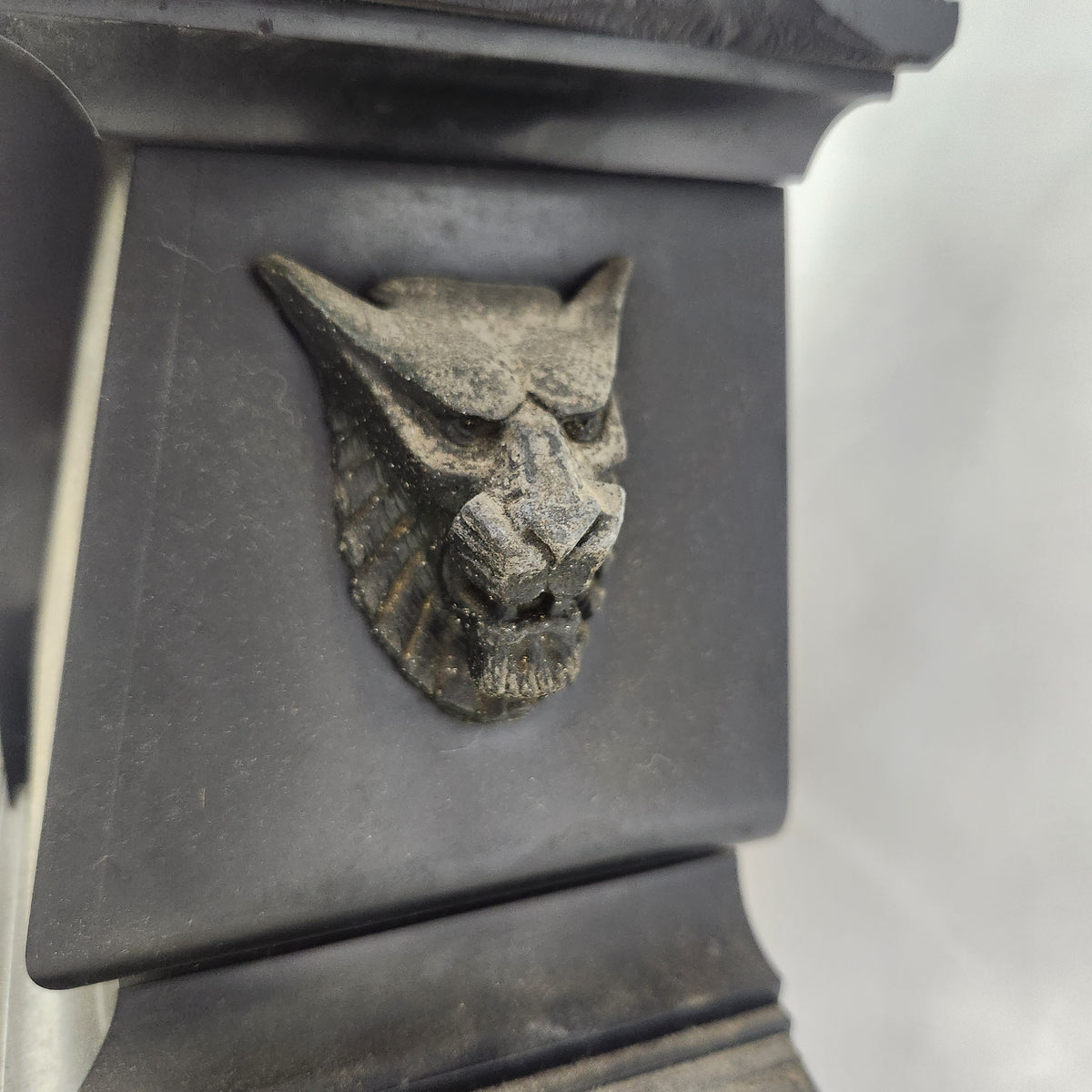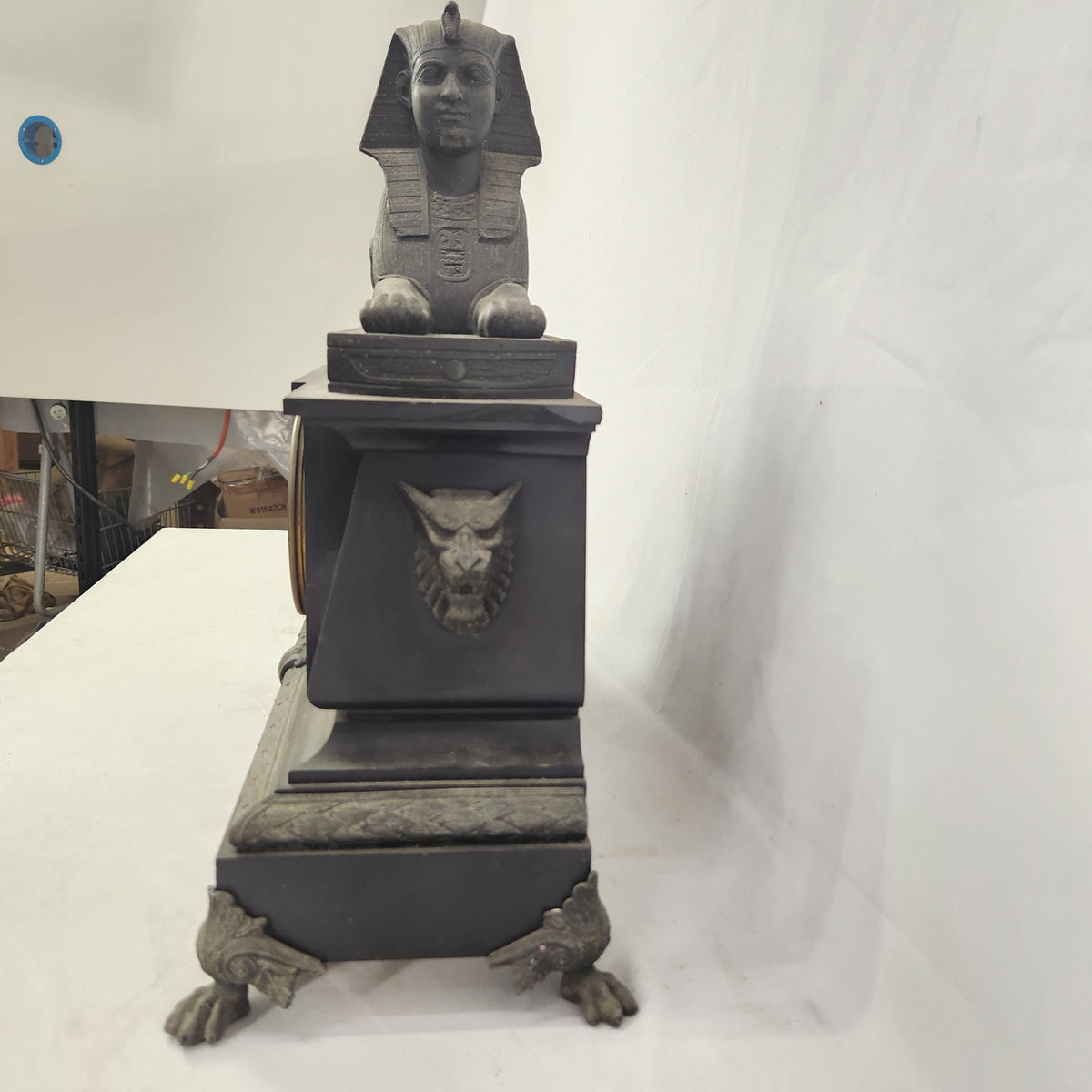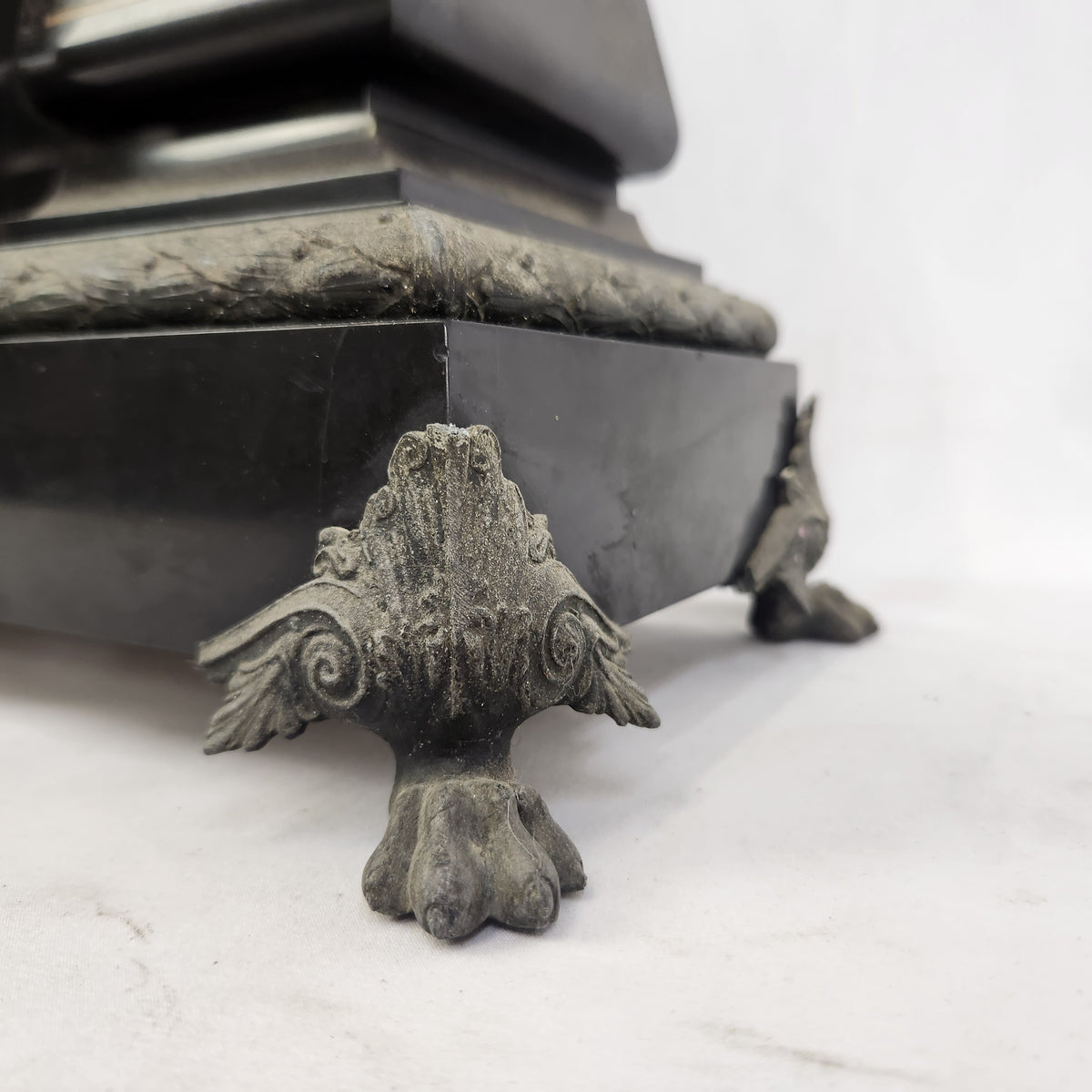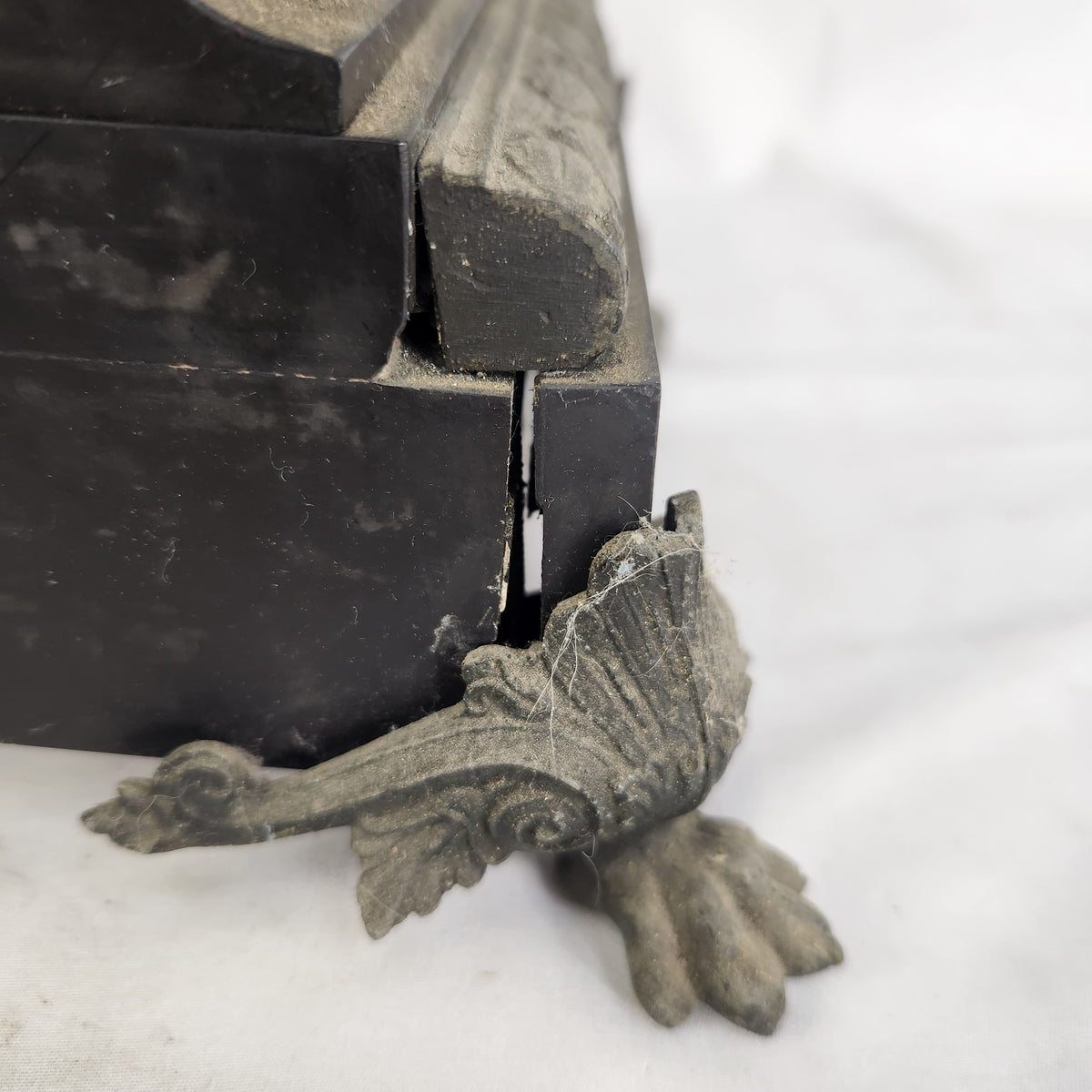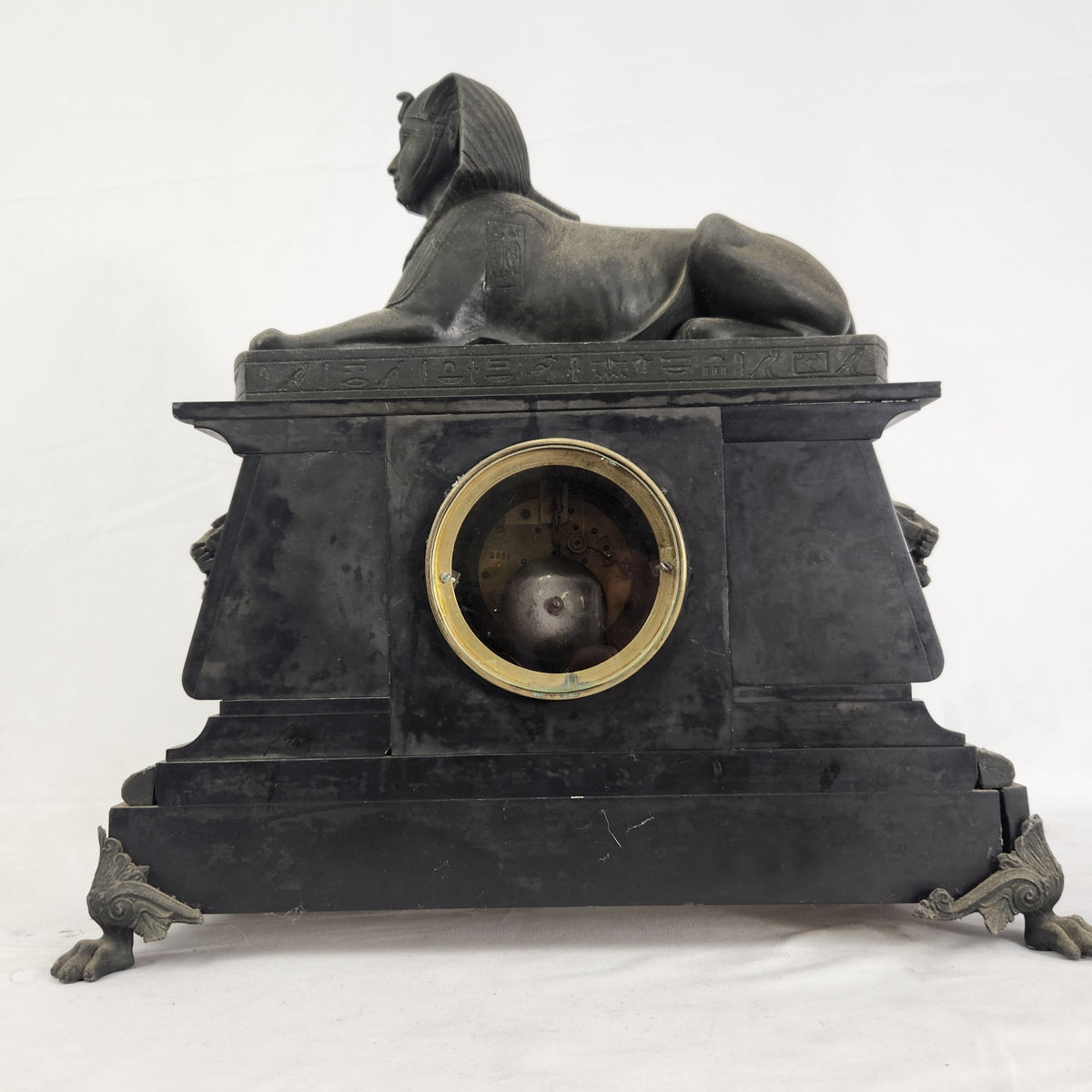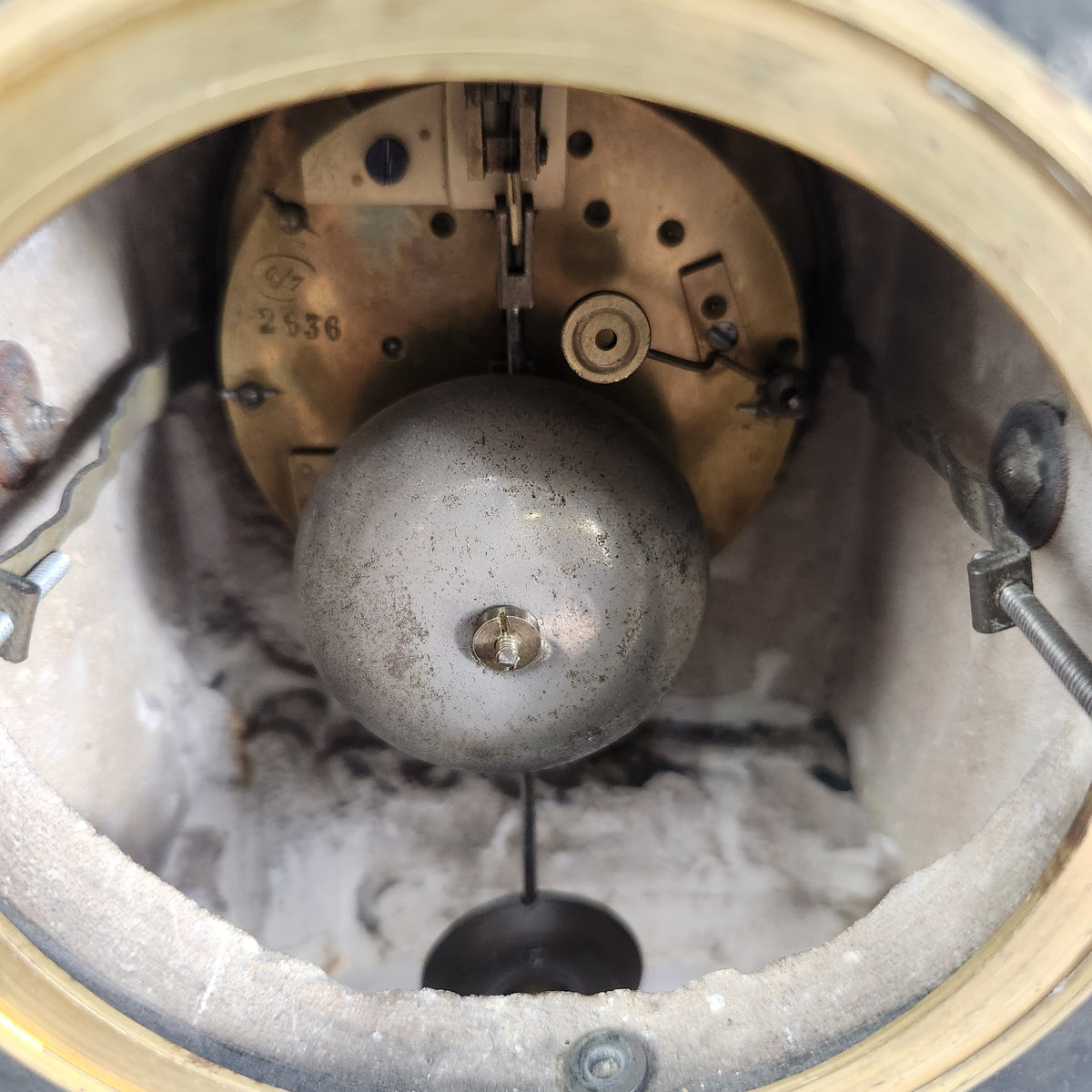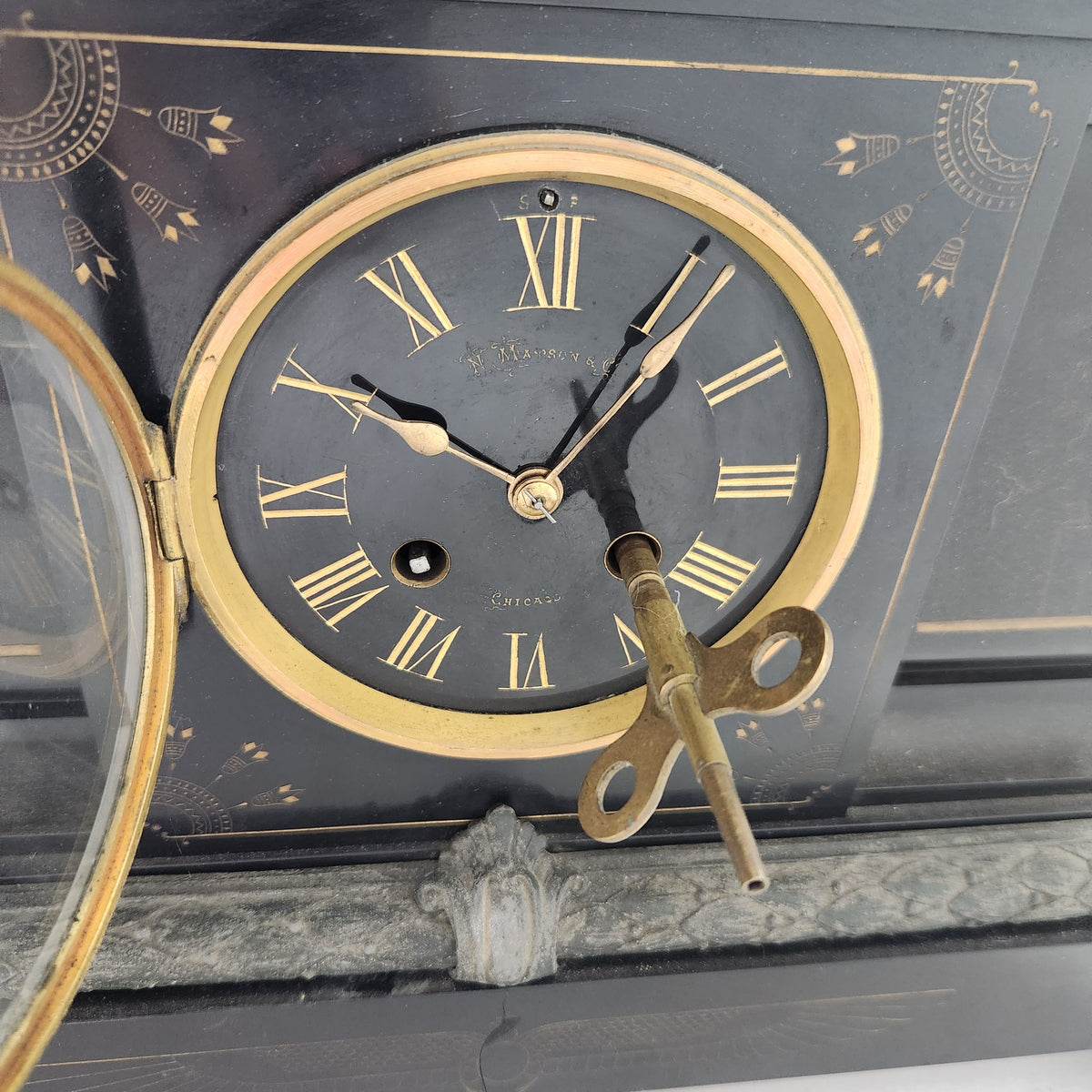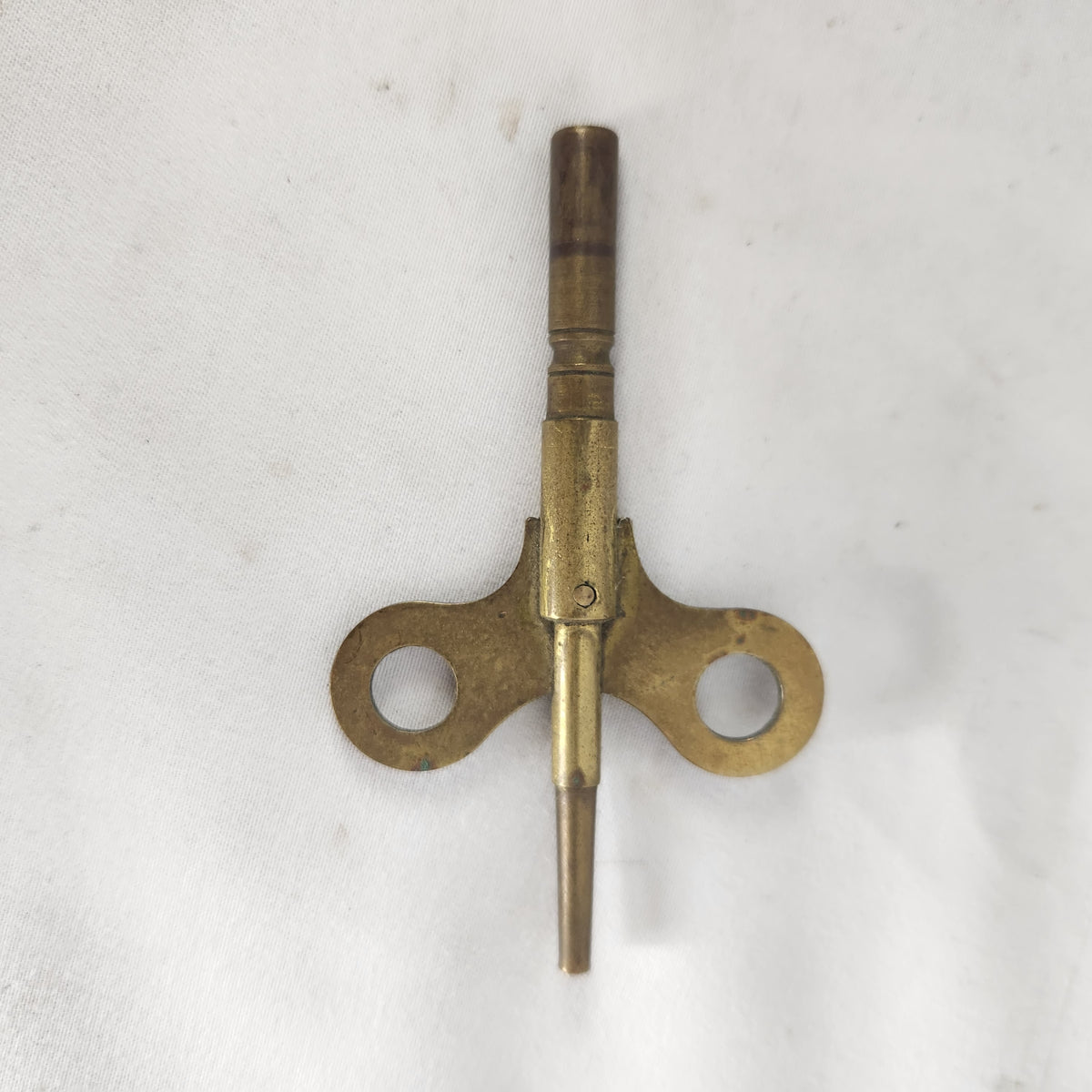 This c.1880's Egyptian Revival clock is both AMAZING, and includes a great back story. The clock features a cast white metal sphinx atop a black marble plinth and body with elegant engraved Egyptian style figures all sitting atop metal claw feet. The dial is an elegant painted black dial with the maker, 'N. Matson & Co.' and 'Chicago' hand painted in gold. The bold gold painted Roman numerals radiate around the dial contrasting with the black background to make it easy to read. The clock features a French Japy Freres & C. movement and a schoolbell strike. The movement date is consistent with the estimated clock age as its stamp represents the Japy Brothers' Med. d'honeur of 1867. 
Condition: The clock is in working condtion, but there are issues. The front stone panel is cracked in the middle, but is intact. There is a chip on the lower undersideof the Sphinx's plinth. the back side of one of the claw feet has a small piece broken off (included with the clock) and the left end of the case is loose and should be refitted to stabilize it. None of these issues prevent the clock from displaying beautifully or working. 
The maker of this clock's (Newel Matson) store was destroyed in the Chicago fire of 1871 and this clock was likely made during the 15 years after Matson determindedly rebuilt the store and set to work repaying his creditors. His reported success in making good with many creditors as well as the quality of his wares helped solidify his excellent reputation in Chicago. We know the clock is older than 1888 because Matson died late June of 1887 and by the end of 1888 the store and products were renamed with a new owner. 
Dimensions:
16.5" High x 18" Wide x 7.5" Deep
_______________________________
The photos included in this listing show the item you will receive. Community Forklift merchandise is all previously owned; please review the photos carefully to assess condition. This listing includes only what is described and no additional items are included. Please raise any questions before purchasing at marketplace@communityforklift.org. Be advised that we do not place holds on any items listed online and they may sell at any time.
Shipping is not available. In-store pickup only.
Pick-up will be available during open warehouse hours: Monday – Friday 12-5 pm and weekends from 10-5 pm.
We offer 5 days of storage. You must pick up your item within 5 days of purchase. After 5 days, the item may be resold. If it is resold you will be refunded 75% of the purchase amount.
We have staff available to load items. We strongly encourage you to bring help to load large purchases. Our staff will help as much as they can but will not load large, bulky, and heavy items into inappropriate vehicles.
Every time you donate or shop at Community Forklift, you're helping us lift up local communities through reuse.  We turn the construction waste stream into a resource stream for communities in the DC region – by keeping perfectly good items out of the landfill, preserving historical materials, providing low-cost building supplies, and creating local green jobs.
Tick-tock